"I will go anywhere and do anything in order to communicate the love of Jesus to those who do not know Him or have forgotten Him."
"We must pray without tiring, for the salvation of mankind does not depend upon material success . . . but on Jesus alone."
"Prayer is powerful! It fills the earth with mercy, it makes the Divine clemency pass from generation to generation; right along the course of the centuries wonderful works have been achieved through prayer."
"If you are in danger, if your hearts are confused, turn to Mary; she is our comfort, our help; turn towards her and you will be saved."
Centennial of the holy death of
Saint Frances Xavier Cabrini
(1850-1917)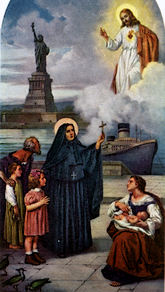 She earned a teacher's certificate and applied to two Orders having missionary houses, but was rejected for reasons of health. Reluctantly, at the request of her bishop, she tried to save an orphanage and make of its staff a religious community, but after six hard years the work collapsed. And Frances, by then thirty years old, initiated her own missionary community with seven of her associates from the orphanage. Bishop Scalabrini suggested they work with Italian immigrants, especially in the United States, as the Congregation of Saint Charles which he had founded was doing; but Mother Cabrini's heart was set on China. She asked counsel of Pope Leo XIII. Go not to the East, he told her, but to the West.
Founding schools, hospitals and charitable works of every kind, she would cross the ocean thirty times, bringing bands of young Italian Sisters to North and South America. Her amusing community letter, during her second trip to New York, gives a typical picture of these missionary voyages: This morning all the Sisters woke up very ill. Some of them thought they were going to die… Those who trusted my words rose and tried to eat, and presently were looking quite well. The others who thought death was at hand stayed in their rooms awaiting it…
Her letters are filled with the practical motherly instruction of a foundress who knew she was loved and imitated by her Sisters. When you are corrected do not justify yourself. Remain silent and practice virtue, whether you are right or wrong, otherwise we may dream of perfection but will never attain it. (Oct. 17-20, 1892) Love is not loved, my daughters! Love is not loved! (Aug. 21, 1890) Renounce yourselves entirely if you wish to enjoy peace… She who is not holy will make no one holy. (Oct. 17, 1892)
Explaining why she did not accompany some Sisters on a boat excursion she wrote, I admit my weakness, I am afraid of the sea. And if there is no very holy motive in view, I have no courage to go where I fear danger, unless sent by obedience. For then, of course, one's movements are blessed by God.
Mother Cabrini died on December 22, 1917, at sixty-seven, suddenly and alone in one of her Chicago hospitals, while preparing Christmas presents for 500 children.
Lives of the Saints: Daily Readings, by Augustine Kalberer, O.S.B. (Franciscan Herald Press: Chicago, 1975).
Prayer to Saint Frances Xavier Cabrini
Almighty and Eternal Father, Giver of all Gifts, show us Your mercy, and grant, we beseech You, through the merits of Your faithful Servant, St. Frances Xavier Cabrini, that all who invoke her intercession may obtain what they desire according to the good pleasure of Your Holy Will.
[Mention your request]
O Lord Jesus Christ, Savior of the world, mindful of Your bountiful goodness and love, deign, we implore You, through the tender devotion of St. Frances Xavier Cabrini for Your Sacred Heart, to hear our prayers and grant our petitions.
O God, the Holy Spirit, Comforter of the afflicted, Fountain of Light and Truth, through the ardent zeal of Your humble handmaid, St. Frances Xavier Cabrini, grant us Your all-powerful aid in our necessities, sanctify our souls and fill our minds with Divine Light that we may see the Holy Will of God in all things.
St. Frances Xavier Cabrini, beloved spouse of the Sacred Heart of Jesus, intercede for us that the favor we now ask may be granted.
Our Father, Hail Mary, Glory be (three times)
Prayer for the intercession of Saint Frances Cabrini
O Apostle of the Heart of Jesus, Great Missionary and Mother of Missionaries, Saint Frances Xavier Cabrini, full of admiration for your sublime virtue and confident of your protection, we call upon you as our powerful mediatrix and advocate with God. You, who did say with the Apostle, "I can do all things in Him Who strengthens me", obtain for us an ardent and lively Faith, an enlightened and zealous Charity and a firm Hope that may strengthen us along life's difficult path.
O glorious Saint, who so loved the souls redeemed by our Saviour, turn your maternal eyes towards your daughters who invoke thee, towards the youth exposed to so many dangers, towards the sinner, the sick, the worker, the emigrant, the prisoner and towards all who are living in sorrow.
Help those countries that are in sorrow, yet trust in God, the nations which you benefited with your good works and particularly that country which was your last earthly abode. Extend your pity over the whole world torn by strife and sorrow.
Grant that we too, Saint Frances, may one day be united with thee in thy glory in Heaven, where our Sovereign Lord Jesus Christ liveth and reigneth world without end. Amen.
Our Father, Hail Mary, Glory be (three times)