This post is also available in:

Français

Español

Italiano
WAY OF THE CROSS
OF PENANCE
by Bl. Canon Alfred Weber
Let us follow on the holy mountain
Our Saviour, bloody, disfigured…
And let us walk after Him without fear
Under the weight (bis) of the sacred tree.
Sancta Mater, istud agas
Crucifixi fige plagas
Cordi meo valide.
O holy Mother of Sorrows
Print in my wretched heart
The wounds of my sweet Savior.
We adore Thee, O Christ, and we bless Thee
Because by Thy Holy Cross, Thou hast redeemed the world.
Jesus is Condemned to Death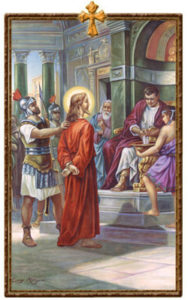 Jesus accepts the death sentence to give life back to me, but only on the condition that I will take my share of His sufferings and that I will complete in me what is lacking in His Passion. If I refuse, I lose all the fruit of this salutary death and I commit myself to eternal death.
O Jesus! You warned us that we would all perish if we did not do penance. Therefore, I beg You to give me the courage to condemn me and to chastise mercilessly those cursed sins that condemned You to die for me. Amen!