This post is also available in:

Français

Español
Exclusively:
The true Story of Christmas.
May the divine Child Jesus make you feel His Infinite Love and fill your heart with happiness and peace on this special day as we celebrate His birth.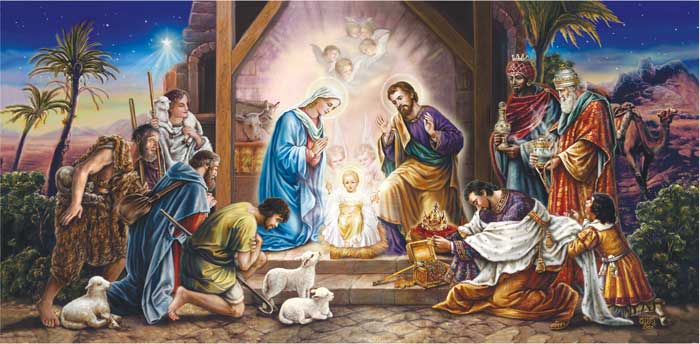 The Angel's message to the shepherds:
"Do not be afraid, for behold, I bring you great joy, which shall be to all the people: for to you is born this day in the city of David a Saviour, who is Christ the Lord.
– Glory be to God in the highest, and on earth,
peace to men of good will!"
(Gospel of Our Lord Jesus Christ, Saint Luke 2: 10-14)
The true Story of Christmas
Chapter 1:
The Archangel Gabriel announces to the Virgin Mary that She will be Mother of God.
Chapter 2:
Trial and Consolation of Saint Joseph
Chapter 3:
The Census and the journey from Nazareth to Bethlehem
The true Story of Christmas (cont.)
Chapter 4:
The Birth of Jesus in Bethlehem
Chapter 5:
The first Witnesses of the Saviour's Birth: The Shepherds
Chapter 6:
The Wise Men from the East
The true Story of Christmas (cont.)
Chapter 7:
Happy Arrival in Bethlehem
Chapter 8:
Herod's Fury – Massacre of the Holy Innocents
Chapter 9:
The Stay in Egypt – Return Home
Note: under construction…
---
Short Quotes on various topics
---
Slideshows. -Audio of traditional hymns, with text displayed for singing along with our Monastery's Brothers and Sisters.
---
The Story of Christmas
–Another video coming soon…
---
To test your religious knowledge and to learn about God's beautiful mysteries.
---
Several beautiful religious images in puzzles to relax in the company of Heaven.
---
Copyrights and permissions
To obtain permission to use articles, images, audio, videos, please contact us at apotres@magnificat .
The content may not be sold or distributed for profit in any manner whatsoever without the formal authorization of Editions Magnificat.
You are invited to share our content by linking to your own website or blog.