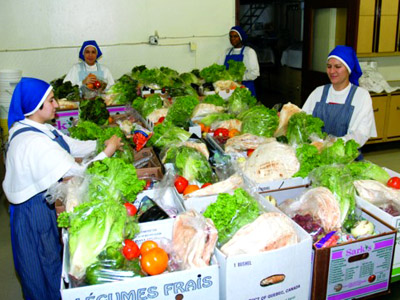 At the Mother House, preparation of food boxes for families in need.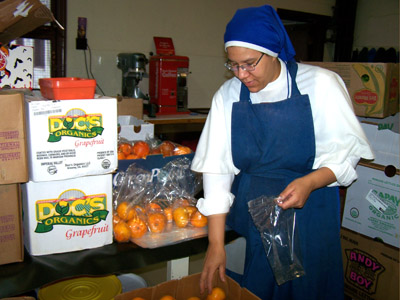 Thanks to the donations of our benefactors, we in turn are able to offer beautiful fruits and vegetables to people in need.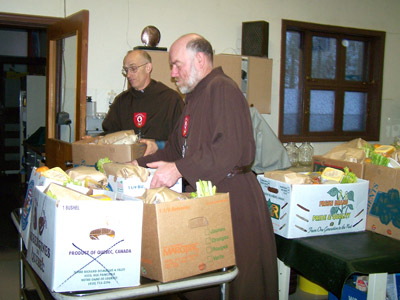 The Fathers help carry the boxes
from the kitchen to the reception.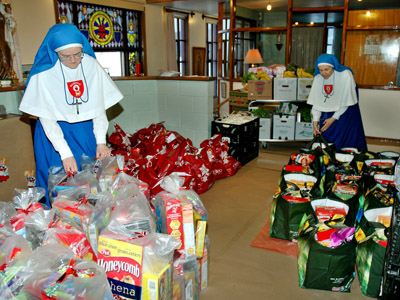 Two nuns get their hands on
the final preparations.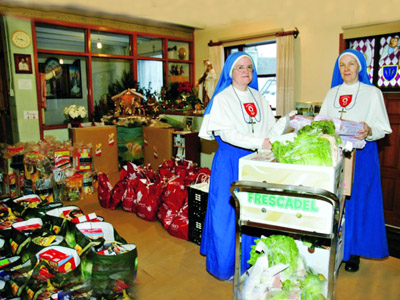 The nuns at the reception,
ready for distribution.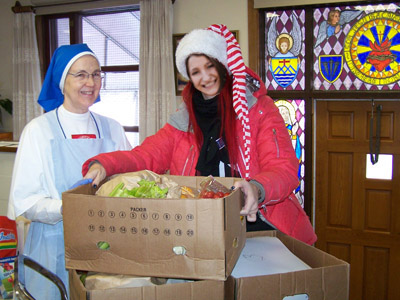 There is more happiness in giving than in receiving!  (Acts of the Apostles, 20:35)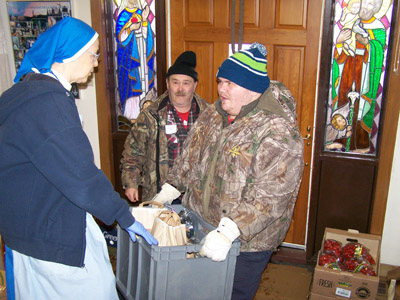 The little word from the heart that gives the courage to continue to face life's trials.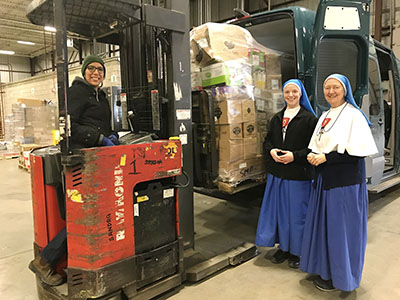 Through benefactors God largely provides for all our needs and those of our protégés.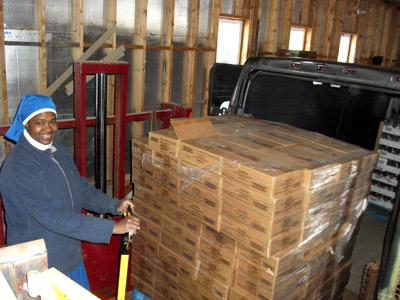 At the House of Bread in Quebec City,
a nun takes a pallet of provisions out of
the truck, a welcome donation from generous benefactors.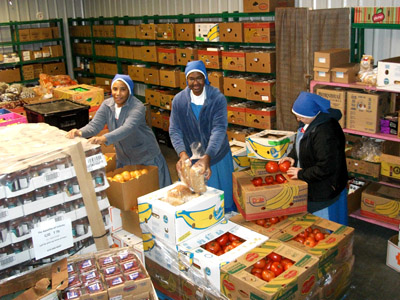 In the refrigerated room,
fruits and vegetables are sorted
for the food bank.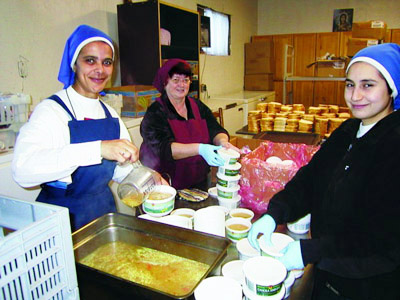 A volunteer is happy to lend
a hand to the nuns.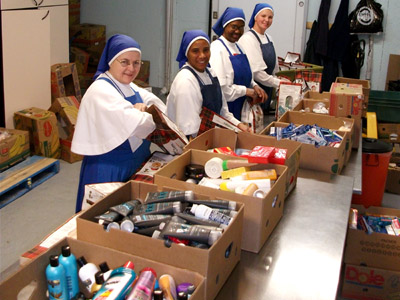 In addition to food support, donation of basic necessities to families.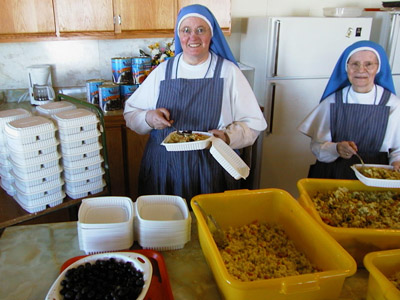 Preparation of potato salad,
macaroni or other.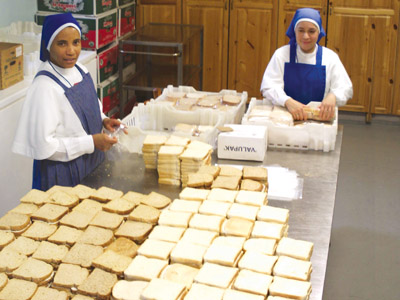 Preparation of the sandwiches.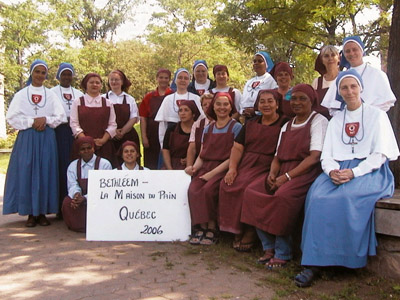 At the Quebec City Food Bank,
a group of volunteers with the nuns
in a well earned break!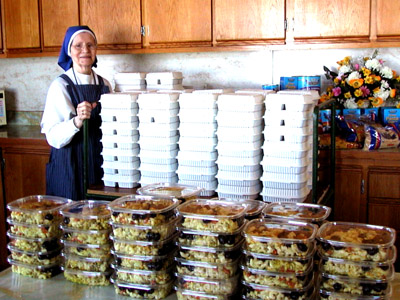 Daily distribution of lunches
prepared with care and love.
God loves a cheerful giver.
(II Corinthians 9:7)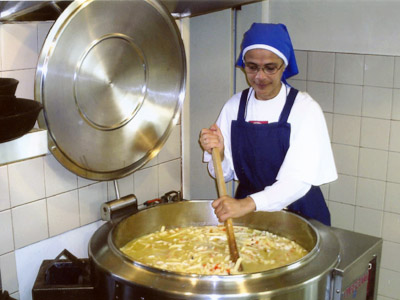 Preparation of hot meals
much appreciated on winter days.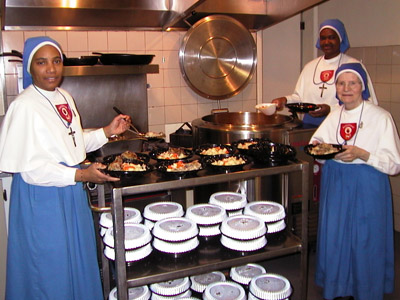 Hearty hot takeaway meals
for that special Christmas dinner.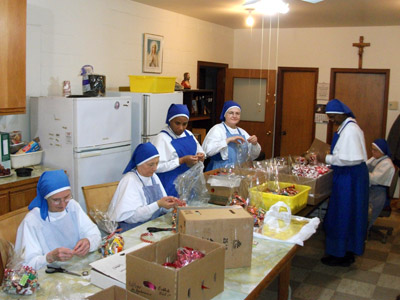 For the holidays, we do a little extra
by handing out candy and special treats.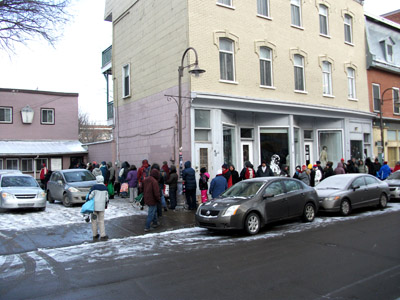 Saturday's long queue for food aid from 9am to 12pm.  A much appreciated helping hand that relieves the weekly budget of many families in difficulty.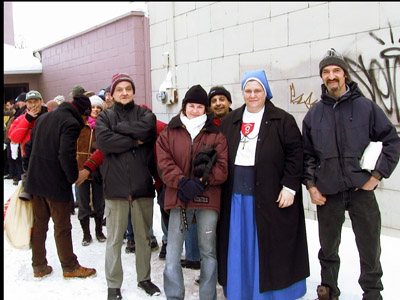 Some beneficiaries of the House of Bread, grateful and sympathetic.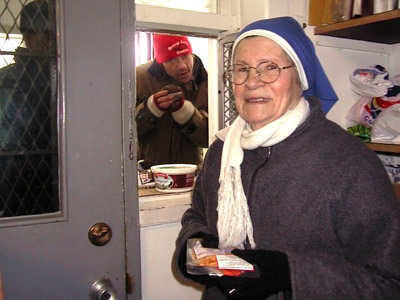 A friendly smile accompanies the meal,
for we don't forget Jesus' words:
What you do to the least of My people,
you do to Me!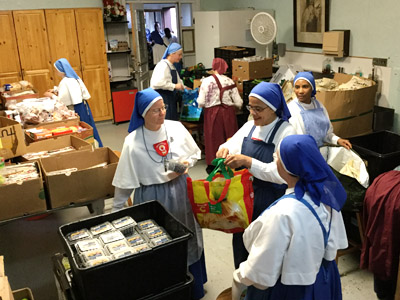 Distribution of market bags on Saturdays.
All food is donated by faithful and
generous benefactors.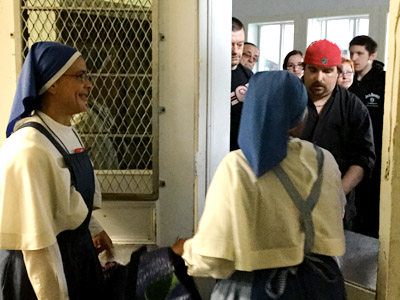 The gift of food is complemented by words of comfort and encouragement.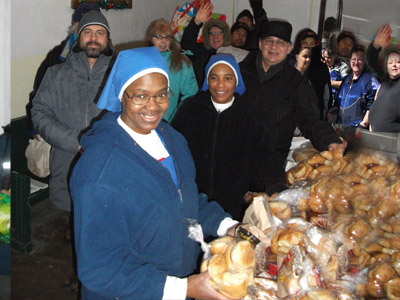 Bread is always popular. God bless our benefactors! Without their help, we wouldn't be able to help so many good people.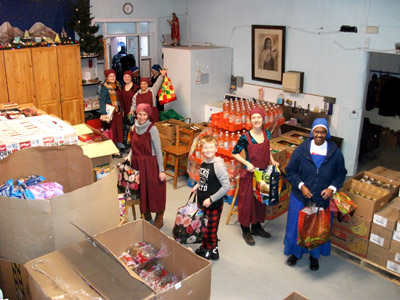 On days when market bags are distributed to families, the nuns can always count on the dedicated support of volunteers.