This post is also available in:

Français

Español
Passion Sunday – Which of you shall convince Me of sin?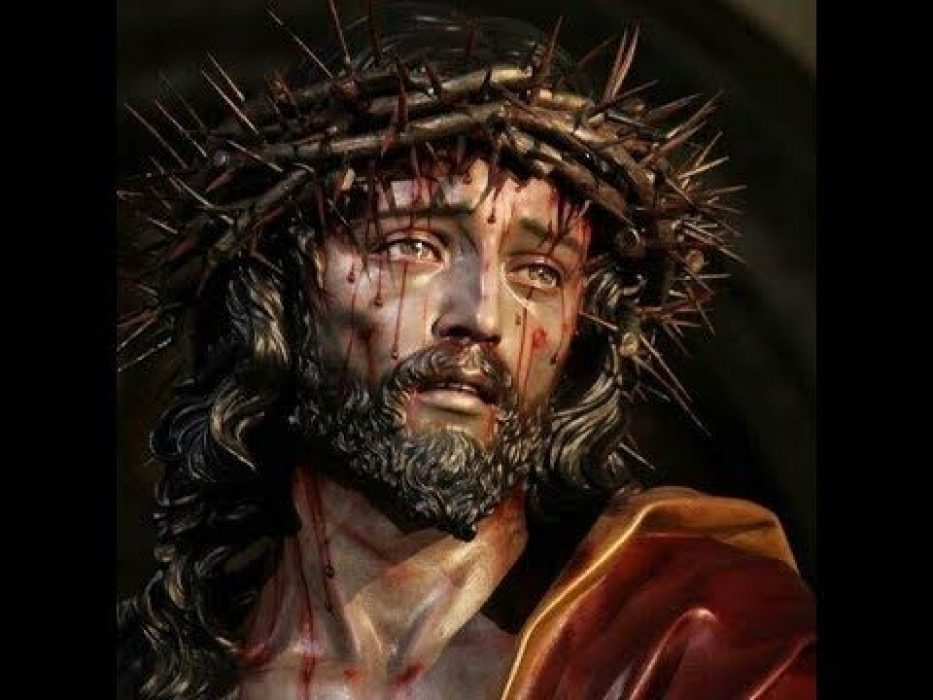 At that time, Jesus said to the multitude of the Jews: Which of you shall convince Me of sin? If I say the truth to you, why do you not believe Me? He that is of God hears the words of God. Therefore, you hear them not, because you are not of God.
Introit
Judge me, O God, and distinguish my cause from the nation that is not holy; deliver me from the unjust and deceitful man; for Thou art my God and my strength. Send forth Thy light and Thy truth; for they have conducted me, and brought me to Thy holy mount, and into Thy tabernacles.
Collect
Mercifully look down on Thy people, we beseech Thee, O Almighty God, that, by Thy bounty and protection, they may be governed and guarded.
Epistle
Lesson of the Epistle of St. Paul the Apostle to the Hebrews, Chapter IX.
Brethren: Christ being come, an High Priest of the good things to come, by a greater and more perfect tabernacle not made with hands, that is, not of this creation, neither by the blood of goats or of the calves, but by His own Blood, entered once into the Holies, having obtained eternal redemption. For, if the blood of goats and of oxen, and the ashes of an heifer being sprinkled, sanctify such as are defiled, to the cleansing of the flesh; how much more shall the Blood of Christ (who by the Holy Ghost offered Himself unspotted unto God), cleanse our conscience from dead works to serve the living God? And, therefore, He is the mediator of the New Testament: that by means of His death, for the redemption of those transgressions which were under the former testament, they that are called may receive the promise of eternal inheritance.
Reflexion on the Epistle
It is by Blood alone that man is to be redeemed. He has offended God. This God cannot be appeased by anything short of the extermination of His rebellious creature, who, by shedding His blood, will give an earnest of his repentance and his entire submission to the Creator, against, whom he dared to rebel. Otherwise, the justice of God must be satisfied by the sinner's suffering eternal punishment.
Can the blood of man himself bring him his own redemption, and appease God's justice? No, not even man's blood, for it is defiled; and even were it undefiled, it is powerless to compensate for the outrage done to God by sin. For this, there was needed the Blood of a God; that was the Blood of Jesus, and He has come that He may shed it for our redemption.
In Him is fulfilled the most sacred of the figures of the Old Law. Once each year, the High-Priest entered into the Holy of Holies, there to make intercession for the people. He went within the Veil, even to the Ark of the Covenant; but he was not allowed to enjoy this great privilege, unless he entered the holy place carrying in his hands the blood of a newly-offered victim. The Son of God, the true High-Priest, is now about to enter heaven, and we are to follow Him thither; but unto this, He must have an offering of blood, and that Blood can be none other than His own. We are going to assist at this His compliance with the divine ordinance. Let us open our hearts, that this precious Blood may, as the Apostle says in today's Epistle, cleanse our conscience from dead works to serve the living God.
Gradual
Deliver me, O Lord, from my enemies; teach me to do Thy will. Thou, O Lord, art my deliverer from the enraged Gentiles: Thou wilt put me out of the reach of those that assault me; and Thou wilt rescue me from the unrighteous man.
Tract
Many a time have they fought against me from my youth. Let Israel now say: They have often attacked me from my youth. But they could not prevail over me: the wicked have wrought upon my back. They have lengthened their iniquity: the Lord, who is just, will cut the necks of sinners.
Gospel
Sequel of the Holy Gospel, according to John, Chapter VIII.
At that time: Jesus said to the multitude of the Jews: Which of you shall convince Me of sin? If I say the truth to you, why do you not believe Me? He that is of God hears the words of God. Therefore, you hear them not, because you are not of God. The Jews, therefore, answered, and said to Him: Do not we say well that Thou art a Samaritan, and hast a devil? Jesus answered: I have not a devil: but I honour My Father, and you have dishonoured Me. But I seek not My own glory: there is one that seeks and judges. Amen, amen, I say to you: If any man keep My word, he shall not see death for ever. The Jews therefore said: Now we know that Thou hast a devil. Abraham is dead, and the prophets; and Thou sayest: If any man keep My word, he shall not taste death for ever. Art Thou greater than our Father Abraham, who is dead? And the prophets are dead. Whom dost Thou make Thyself? Jesus answered: If I glorify Myself, My glory is nothing. It is My Father that glorifies Me, of whom you say that He is your God; and you have not known Him, but I know Him. And if I should say that I know Him not, I should be like to you, a liar. But I do know Him, and do keep His word. Abraham your father rejoiced that he might see My day: he saw it, and was glad. The Jews then said to Him: Thou art not yet fifty years old, and hast Thou seen Abraham? Jesus said to them: Amen, amen, I say unto you, before Abraham was made, I am. They took up stones therefore to cast at Him. But Jesus hid Himself, and went out of the temple.
Reflexion on the Gospel
The fury of the Jews is evidently at its height, and Jesus is obliged to hide Himself from them. But He is to fall into their hands before many days are over; then will they triumph and put Him to death. They triumph, and Jesus is their victim; but how different is to be His lot from theirs! In obedience to the decrees of His heavenly Father, and out of love for men, He will deliver Himself into the hands of His enemies, and they will put Him to death; but He will rise victorious from the tomb, He will ascend into heaven, He will be throned on the right hand of His Father. His enemies, on the contrary, after having vented all their rage, will live on without remorse, until the terrible day come for their chastisement. That day is not far off, for observe the severity wherewith our Lord speaks to them: "You hear not the words of God, because you are not of God." Yet there was a time, when they were of God, for the Lord gives His grace to all men; but they have rendered this grace useless; they are now in darkness, and the light they have rejected will not return.
Strange blindness, that comes from pride and hardness of heart! The Feast of the Pasch is at hand: these men are going to eat, and with much parade of religion, the flesh of the figurative lamb; they know full well, that this lamb is a symbol, or a figure, which is to have its fulfilment. The true Lamb is to be sacrificed by their hands, and they will not know Him. He will shed His Blood for them, and it will not save them. How this reminds us of those sinners, for whom this Easter promises to be as fruitless as those of the past years! Let us redouble our prayers for them, and beseech our Lord to soften their hearts, lest trampling the Blood of Jesus under their feet, they should have it to cry vengeance against them before the throne of the Heavenly Father.
Communion
This is the body which shall be delivered up for you; this is the cup of the new covenant in My blood, said the Lord. As often as you receive them, do it in remembrance of Me.
Postcommunion
Help us, O Lord our God, and for ever protect those whom Thou hast refreshed with Thy sacred mysteries.
Subscribe to the Magnificat Magazine
Rich in spiritual treasures that comfort the heart and uplift the soul.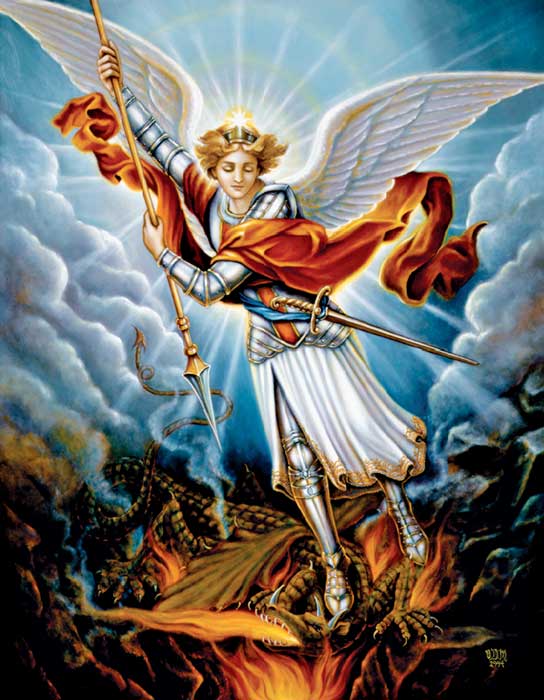 Article
I give you our watchword for 2021 by way of an invitation. I invite you to fight, to combat.
"I gave you six days in which to work, I reserved the seventh for Myself, and you do not want to give it to Me. That is what makes My Son's arm so heavy."