This post is also available in:

Français

Español
Easter Sunday – Jesus resurrects Himself by His own power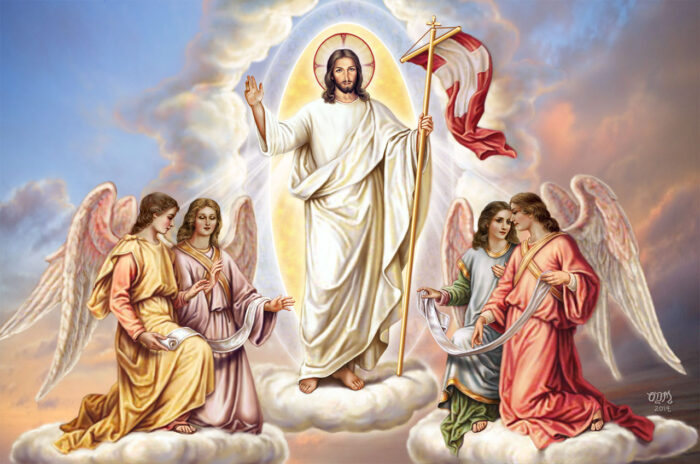 The Angel said to them: Be not frightened: you seek Jesus of Nazareth, who was crucified: He is risen.
Introit
I have risen, and am as yet with Thee, alleluia: Thou hast stretched forth Thy hand to Me, alleluia: Thy knowledge is become wonderful. Alleluia, alleluia. Psalm. Lord, Thou hast tried Me, and known Me: Thou hast known My sitting down and My up-rising.
Collect
O God, who, on this day, by Thy only-begotten Son's victory over death, didst open for us a passage to eternity; grant that our prayers, which Thy preventing grace inspireth, may by Thy help become effectual.
Epistle
Lesson of the Epistle of Saint Paul the Apostle to the Corinthians, I Cor. V.
Brethren: Purge out the old leaven, that you may be a new paste, as you are unleavened. For Christ, our pasch, is sacrificed. Therefore let us feast, not with the old leaven, nor with the leaven of malice and wickedness, but with the unleavened bread of sincerity and truth.
Gradual
This is the day which the Lord hath made: let us be glad and rejoice therein. Praise ye the Lord, for He is good: and His mercy endureth for ever. Alleluia, alleluia. Christ, our Pasch, is sacrificed.
Sequence
Let Christians offer to the Paschal Victim the sacrifice of praise.
The Lamb hath redeemed the sheep: the innocent Jesus hath reconciled sinners to His Father.
Death and life fought against each other, and wondrous was the duel: the King of life was put to death; yet now He lives and reigns.
Tell us, O Mary! what sawest thou on the way?
I saw the sepulchre of the living Christ; I saw the glory of Him that had risen.
I saw the Angels that were the witnesses; I saw the winding-sheet and the cloth.
Christ, my hope, hath risen; He shall go before you into Galilee.
We know that Christ hath truly risen from the dead. Do Thou, O conqueror and King! have mercy upon us. Amen. Alleluia.
Gospel
Sequel of the holy Gospel according to Mark. Ch. XVI.
At that time: Mary Magdalen, and Mary the mother of James, and Salome, bought sweet spices, that coming they might anoint Jesus. And very early in the morning the first day of the week, they come to the sepulchre, the sun being now risen. And they said one to another: Who shall roll us back the stone from the door of the sepulchre? And looking, they saw the stone rolled back. For it was very great. And entering into the sepulchre, they saw a young man sitting on the right side clothed with a white robe: and they were astonished. Who said to them: Be not frightened: you seek Jesus of Nazareth, who was crucified: He is risen, He is not here, behold the place where they laid Him. But go, tell His disciples and Peter, that He goes before you into Galilee: there you shall see Him, as He told you.
Communion
Christ, our Pasch, is immolated, alleluia: therefore, let us feast on the unleavened bread of sincerity and truth. Alleluia, alleluia, alleluia.
Postcommunion
Pour forth on us, O Lord, the spirit of Thy love; that those whom Thou hast filled with the Paschal Sacrament, may, by Thy goodness, live in perfect concord.
Subscribe to the Magnificat Magazine
Rich in spiritual treasures that comfort the heart and uplift the soul.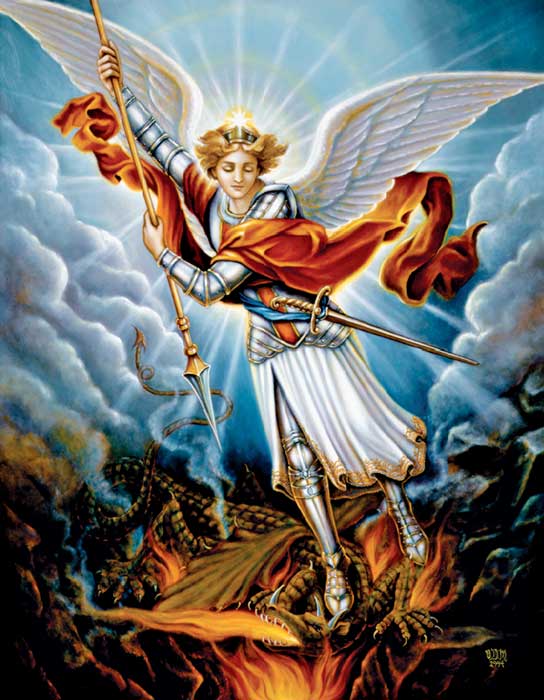 Article
I give you our watchword for 2021 by way of an invitation. I invite you to fight, to combat.
"I gave you six days in which to work, I reserved the seventh for Myself, and you do not want to give it to Me. That is what makes My Son's arm so heavy."