This post is also available in:

Français

Español

Italiano
ON THE WAY TO CALVARY
MEDITATION OF THE WAY OF THE CROSS
by Father John Gregory of the Trinity
Let us follow on the holy mountain
Our Saviour, bloody, disfigured…
And let us walk after Him without fear
Under the weight (bis) of the sacred tree.
Sancta Mater, istud agas
Crucifixi fige plagas
Cordi meo valide.
O holy Mother of Sorrows
Print in my wretched heart
The wounds of my sweet Savior.
We adore Thee, O Christ, and we bless Thee
Because by Thy Holy Cross, Thou hast redeemed the world.
Jesus is Condemned to Death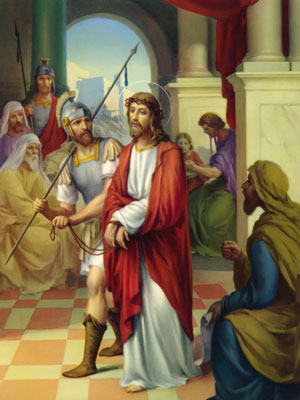 Let us consider our Saviour accepting His condemnation, although He is innocence and holiness itself. We are the truly guilty ones, but we always want to excuse and clear ourselves, finding reasons to lessen the gravity of our failings.
We are very mistaken about ourselves. We do not like looking ourselves squarely in the face to discover the reality of our wretchedness. We try to clear ourselves by blaming our faults on the inadequacies of our education, our situation or the tendencies of our temperament. Rarely do we own up to our guilt. We should strike our breast and ask Jesus to dispel our illusions. We should accuse ourselves humbly.
Jesus, innocence itself, accepts to take our place and bear our great guilt. He takes all our sins upon Himself and becomes the worst of sinners, because we do not want to bear our own sins. Thus burdened with all the sins of mankind, Jesus draws down His divine Father's wrath upon Himself.
As we contemplate Jesus condemned to death, let us ask for the grace of recognizing our wrongs and humble ourselves instead of trying to make excuses for ourselves. Recognizing that we are poor sinners is the first condition for benefitting from the fruits of the Redemption acquired by our Saviour's sorrowful Passion! Let us stop justifying and excusing ourselves, stop casting the blame on others.